Coping with USPS Price Increases and Slowdowns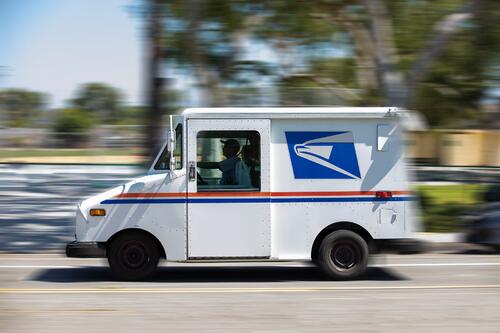 The US Postal Service has doubled down on its historical attempts to slow mail service and increase prices. First Class mail saw increases in August across the board of about 6.8%. The cost of a Forever stamp has been raised by 3 cents, and more First Class mail will be traveling by ground, rather than by air, increasing typical arrival times from one to three days to one to five days. For a temporary period leading up to the holidays, flat rates and other packages will see a significant increase in cost.
Worse yet, according to USPS, prices for business customers — marketing mail, periodicals and other special services — will also increase by around 7%. Now is the time to find ways to save on direct mail. Here are three tips to help adjust to rising postal rates.
Lose some weight
Since less weight means less postage, one of the simplest ways is to choose lighter-weight paper for your biggest mailings. In addition, you can explore lighter-weight bindings (staples vs. tape vs. folds, etc.) and embellishments. Also, it has never been more crucial to have a tight and accurate mailing list to cut down on returns.
Be flexible but prioritize quality
Catalogs and magazines are meant to draw the reader, donor or buyer in, and care must be taken to preserve the quality of these products. Working with a reputable printer that can print high-quality images on papers of all weights is crucial. You might find that periodically switching up the paper quality is enough to get the savings you need, and a top-notch printer will be able to smoothly navigate those transitions while still showcasing your brand and identity.
Use your experts
If all possible, plan ahead. Order your monthly or quarterly paper supply as soon as you know how much you need. Send mailers and packages well in advance of their scheduled arrival dates. Utilize a mill's technical service managers – they can provide guidance and best practices on how to run different papers on press and help navigate any changes from one stock to another. Work with us, your printer and your fulfillment service to coordinate mailings, catalogs, magazines and other publications for an entire year.
Bonus tip: Get involved!
USPS price hikes and slowdowns affect every sector of business, and especially the paper industry. Join thousands of companies, individuals, and nonprofits in the fight to protect the US Postal Service and keep it one of the world's most reliable, affordable, and crucial mail agencies. Stay informed at Keep Us Posted.
At Port Hawkesbury Paper, we aim to be an invaluable member of your marketing and communications team. Let us help you plan your paper needs in 2022 TODAY.