Explore what's unique about Port Hawkesbury Paper
Learn More
Port Hawkesbury Paper
The Port Hawkesbury mill site was first developed in 1962 with the start-up of a sulfite pulp mill. Within ten years, the mill added a newsprint machine and continued to manufacture newsprint and pulp for the next three decades. In 1998, Port Hawkesbury expanded again by investing $850 million on a state-of-the-art supercalender (SC) paper machine. In 2012, the mill at Port Hawkesbury was purchased by Stern Partners and reopened as Port Hawkesbury Paper. The SC machine (PM2) is capable of producing 400,000 tons of SCA++, SCA+, SCA and SCB papers for use in retail inserts, magazines, and catalogs.
The SC machine at Port Hawkesbury Paper delivers the highest quality and most efficient paper production available. Modern equipment, in combination with effective management and a highly skilled workforce, make the mill one of the premier paper manufacturers in the world. In addition to the supercalender machine, the mill has three thermomechanical pulp (TMP) lines which account for 90% of the mill's total fiber requirement.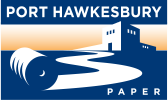 Port Hawkesbury Paper is striving to deliver the highest quality and most efficient supercalendered paper production in North America.
Continually exceeding our customers' expectations through a commitment to responsive, personalized service.
What our customers are saying
"Responsive, accurate and have a good system in place to service the needs of our mutual customer base. The delivery dates are always honored, invoicing is accurate and timely and technical follow ups are professional and fair."
"I find your people some of the best I deal with. More & more I get ... "I'll have to get back to you" from other mills. Your people seem to be able to get their info quickly. LOVE IT!"
"Your service is outstanding! World Class!!"
Videos
Port Hawkesbury Paper Mill Video
Port Hawkesbury Paper on Maritime Made